OTC's Engineered Systems
OTC Industrial Technologies' has capabilities in the design, fabrication, and assembly of fluid handling systems. We offer a range of services, including system and component integration, system design and engineering, and quality management compliant with ISO 9001:2015 procedures.
OTC provides various types of systems, such as chemical feed systems, machining center systems, and high-pressure pump systems. We also conduct system testing, which includes hydro testing, pneumatic testing, and various forms of material and weld testing, along with comprehensive documentation.
Design, Fabrication, and Assembly of Fluid Handling Systems
System and Component Integration
System Design and Engineering
Interprets Customer Specification or Design Requirements
Quality Management through ISO 9001:2015 Procedures
Types of Systems
Chemical Feed Systems
Multi Pump and Filter Systems
Machining Center Systems
Washers, Central Filtration Units, High Pressure Pump Systems
Positive Displacement Blower Packages
Single Blower Packages and Multiple Blower
Skid Mounted Packages
Specialty Pump Systems
High Pressure Pump Skids, Hydraulic/Oil Lube Skids
Process and Plant Components
Motor and Pump Bases, Tanks, Piping
System Testing
Hydro Testing of Pump and Piping Skids
Pneumatic Testing of Pump and Piping Skids
Dye Penetrant Testing of Welded Tanks
Non-Destructive Testing of Fabrication Materials
X-Ray and Mag Particle Testing of Structural and Pipe Weld
Testing and Documentation
Testing:
Hydrostatic

Performance

Mechanical run

Weld Testing (Radiographic, Mag Particle, Ultrasonic)

PMI and Material Certs

Blasting and Painting Verification

Custom ITP Created Based on Requirements
Documentation:
Hydrostatic Test Reports

Paint Datasheets

Instrument Calibration

Documents

Motor Testing

Pump Performance and NPSH Curves

Speed Torque Curves

Electrical Wiring Drawings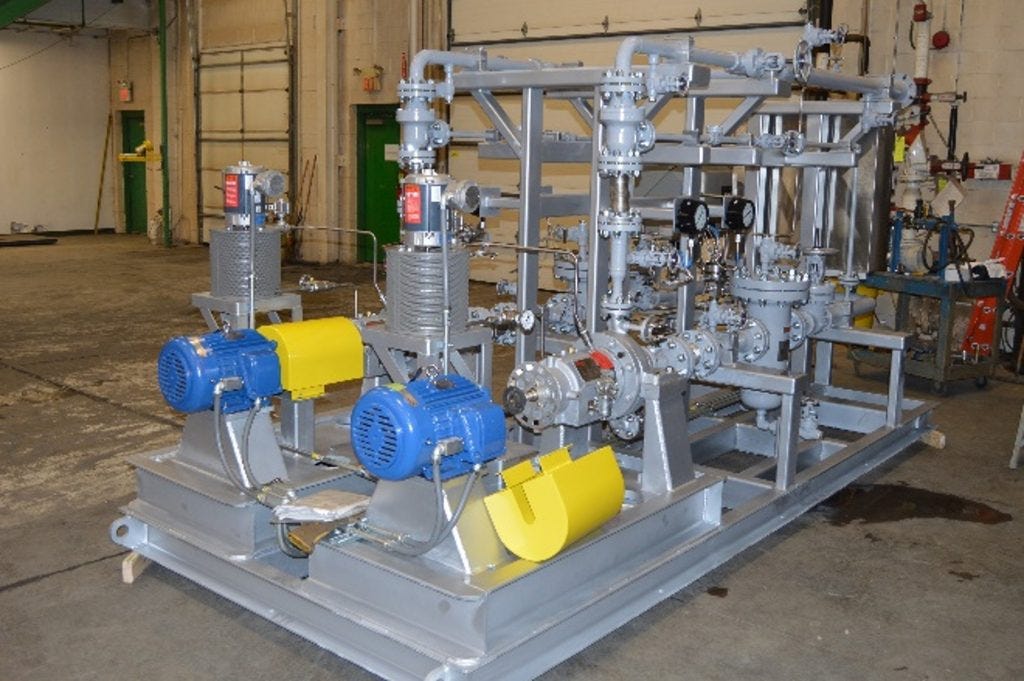 ---
OTC's Quality Policy is to be a preferred supplier of fluid handling products by providing our customers with:
The products and services they need, when they need them

Engineering assistance and technical support, and

Continually improving what we do
All employees share in the responsibility of accomplishing these objectives.
All shop and service personnel attend daily 8am safety meetings

Job Safety Analysis completed for customer on-site work

Active subscription to ISNetworld (an online contractor management database)
---
Thermal Management System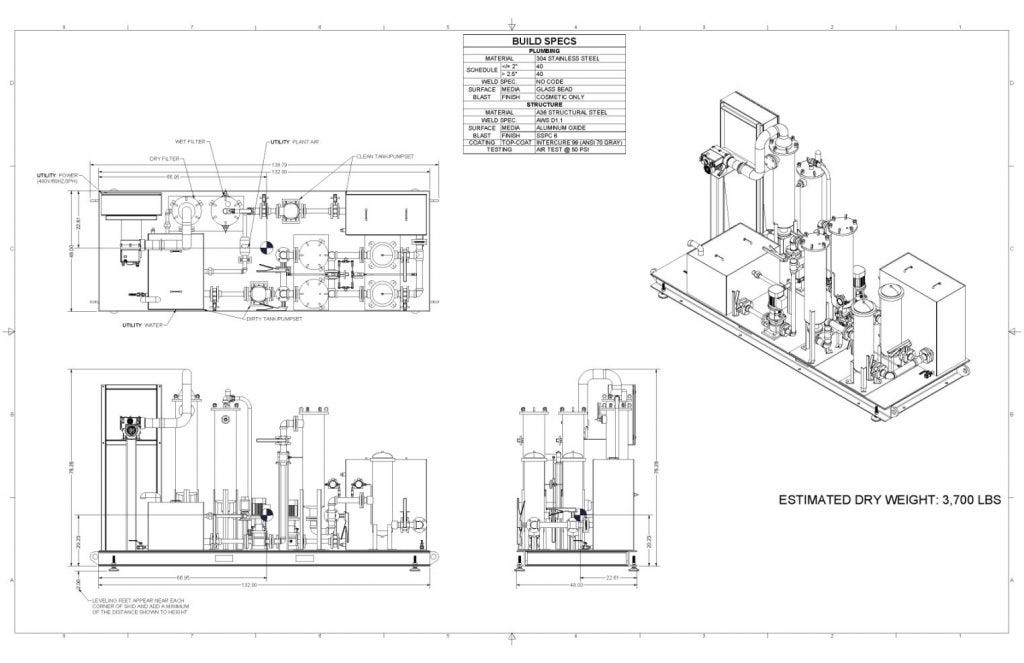 SCOPE
A thermal management customer was given a mandate from their client to remove smaller contaminates and particulates from a core component of their heat exchangers. Our customer reached out to us due to our experience in system design and filtration expertise to design a pilot system to help them achieve their new rigorous specification.
CHALLENGES
Reuse as much deionized water to minimize waste
Small footprint due to available floor space at site
Allow the customer to fine tune the cleaning and drying process by controlling variables such as cleaning time, drying time, and temperature
Develop a state of the art pilot system that was both functional and cost effective
SOLUTION
OTC engineers attended multiple brainstorming and creative meetings both on site and via web conference to allow the customer to review the design and 3-D model. This allowed OTC to make changes in real time to the 3-D model based on the customer feedback, expediting the design review process. A closed loop system was conceptualized that allowed the customer to clean hundreds of parts in one batch, while an automated cleaning system filtered and cleaned the waste water so it could be reused. A local control panel allowed the operator to control the process variables to allow them to be fine-tuned to optimize the cleaning and drying cycle. This modular design allowed the customer to move the pilot system to other facilities so that they can optimize the cleaning of similar products.
---
Mercaptan Injection System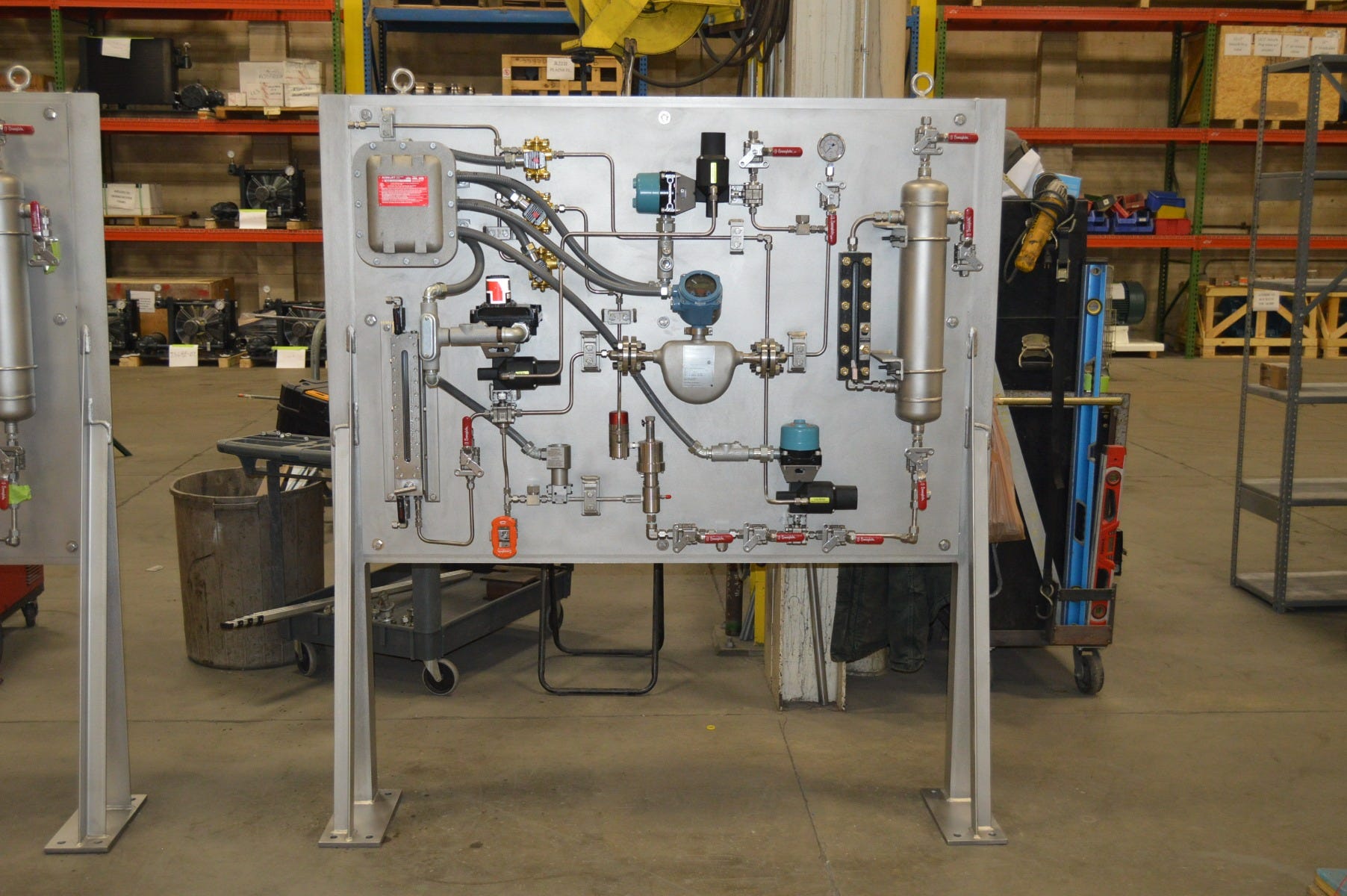 SCOPE
A natural gas pipeline facility was looking to optimize and standardize their mercaptan injection systems. Mercaptan is the compound that is injected into propane to give it the rotten egg smell so that any leaks can be detected by smell. They previously sourced them out to various other suppliers with little to no success on the issues they were having with the operation of the systems.
CHALLENGES
Develop a standard that could be implemented across all of their facilities
Maintain a small footprint due to size constraints of available floor space
Lack of fail safes in current designs
Minimize operator interfacing with automation
SOLUTION
OTC engineers traveled to project site to review the current design used and then brainstorm with the customer to improve the design of the system. OTC met with both the operators as well supervisors to collect a list of operation and maintenance issues to be solved. After the initial design was conceived, OTC collaborated via web conferences to review the layout and discuss solutions. A system was developed to incorporate all of the features that the customer desired. The system was designed with automated fail close valves operation and additional feedback to the control room to ensure the propane would not be back fed into the mercaptan if the system wasn't running or any check valves failed. Additionally, the new design allowed the customer to calibrate and monitor the mercaptan without wasting any mercaptan.
---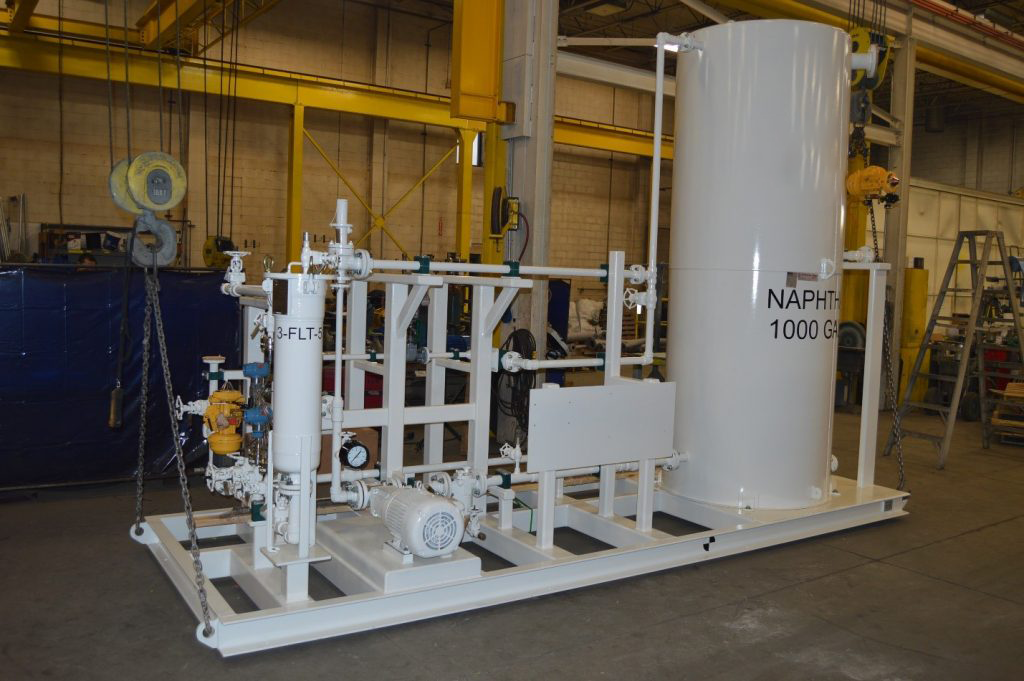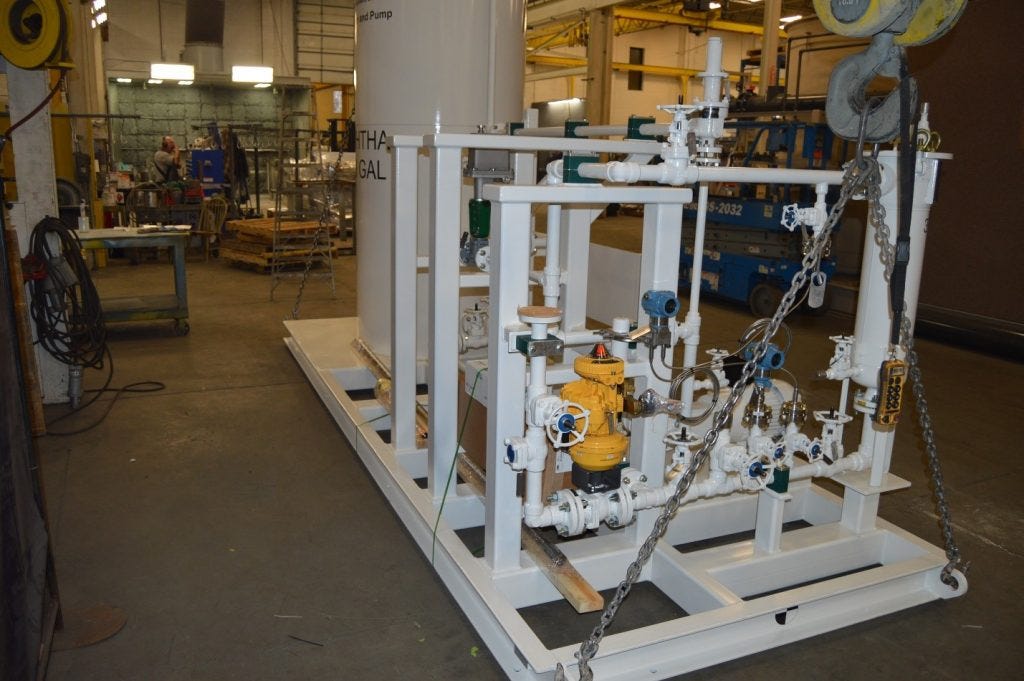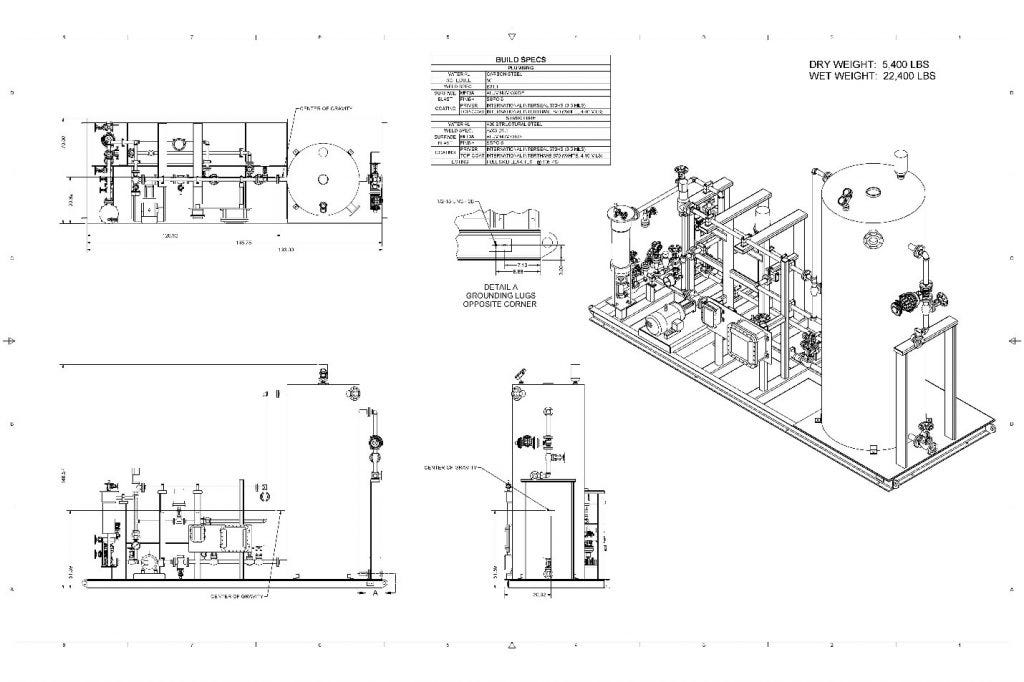 SCOPE
An oil and gas customer was planning on using crude oil to cool their vacuum pump on a vapor recovery unit. They approached OTC to design a system to flush the cooling lines when the vacuum pump was shut down preventing the crude oil from crystallizing in the cooling lines. Naphtha is a common solvent for crude oil and was available on site to use for the flushing.
CHALLENGES
Naphtha is flammable and the skid was located in a classified hazardous area, requiring it to be explosion proof
Naphtha was available near the skid, but it was not a continuous reliable source
The system is in a remote area where it wouldn't be visually monitored and needed to be fail safe
The system would feed multiple cooling loops that would require a range of 0-20 GPM dependent on which loops were being used
The system needed to maintain a constant pressure at the discharge regardless of the flow rate
SOLUTION
OTC's engineers brainstormed to determine the best way to handle the wide flow ranges while maintaining a constant pressure at the cooling line connections. Our engineers utilized a positive displacement gear pump to maintain a flow rate greater than required, recirculating any excess flow with an actuated control valve. This valve would be controlled via a pressure transmitter at the skid discharge to maintain a constant pressure at any flow rate. To make the system fail safe, OTC supplied spring return pneumatically actuated valves that would automatically close on loss of power, control signal, or air pressure. In addition, OTC provided a skid mounted storage tank to ensure a reliable source of naphtha. To prevent overfilling, the actuated valve on tank fill connection was directly wired to a normally closed ultrasonic high level switch that would immediately close the valve on high level. The electrical components were prewired back to explosion proof junction boxes to allow for a faster integration with the vapor recovery unit PLC on site. The skid has been in operation since 2016 and has been providing reliable naphtha flushing without issue.
---
Shower Loop Tempering Water System
SCOPE
An EPC contractor that was building a power plant approached OTC to design and build a tempering water system that would provide an uninterrupted flow of tepid water to safety shower/eye wash stations located throughout the plant. The contractor needed the system to meet the owner's specifications and required a level of customization not available from other vendors in the market.
CHALLENGES
Outlet temperature must remain within the limits specified by ANSI Z358.1 (60-100˚F)
The plant's safety shower/eye wash loop, located outdoors, was to be uninsulated requiring a high circulation flow rate to maintain the required temperature across the loop
Highly variable municipal water supply pressure
The system needed to be fail safe and provided with a cold water bypass in the event of a loss of hot water.
The owner wanted to be able to remotely monitor the system to make sure the system was operating correctly
The system needed to be designed to meet the owner's specifications for a heavy duty system suitable at a power plant
SOLUTION
OTC's experience with customized systems allowed their engineers to quickly conceptualize and implement a design that would meet all of the customer's requirements. By utilizing a high temperature water heater and tank, OTC's engineers were able to meet the tepid water demand required by OSHA while keeping the skid small enough to fit the floor space available at site. Due to the large temperature range the system would be exposed to, the heat loads were drastically different in the summer compared to the winter. A four stage immersion heater and circuit were used to minimize power consumption and prevent short cycling of the heater during warm periods of the year. The entire system was monitored and controlled via the local control panel and a variety of process mounted instrumentation. The use of a local control panel allowed OTC's engineers to perform a comprehensive functionality test of the system prior to shipment, ensuring it worked as designed when it arrived onsite.
---
Modular Enclosure Mounted Chemical Feed Systems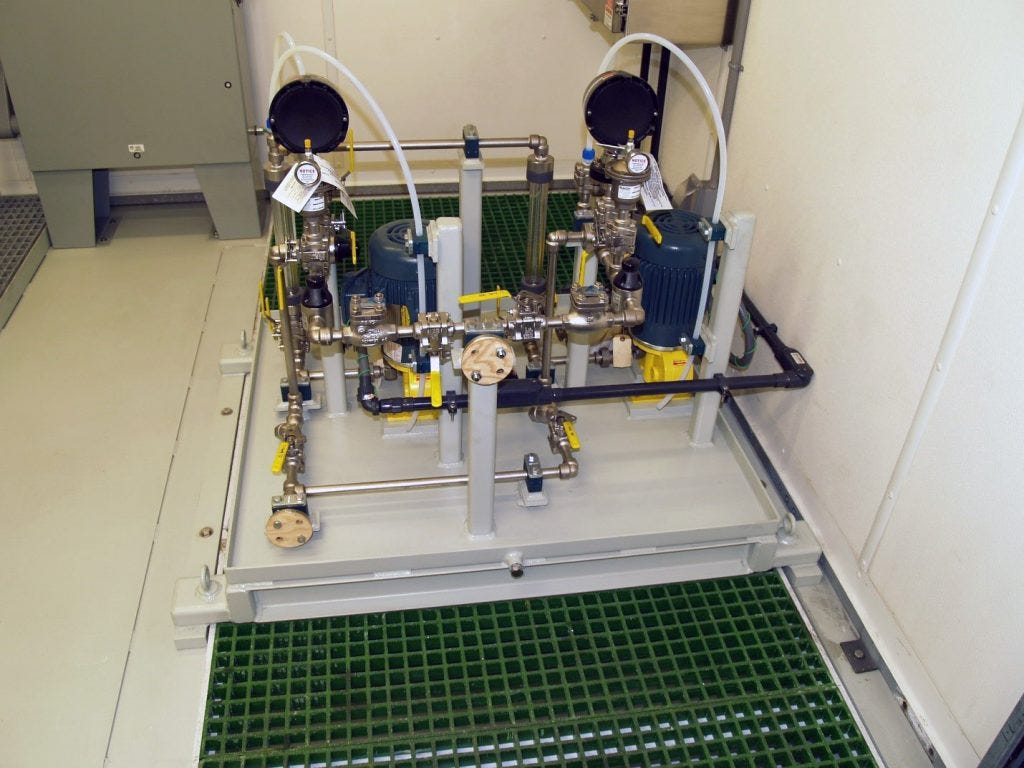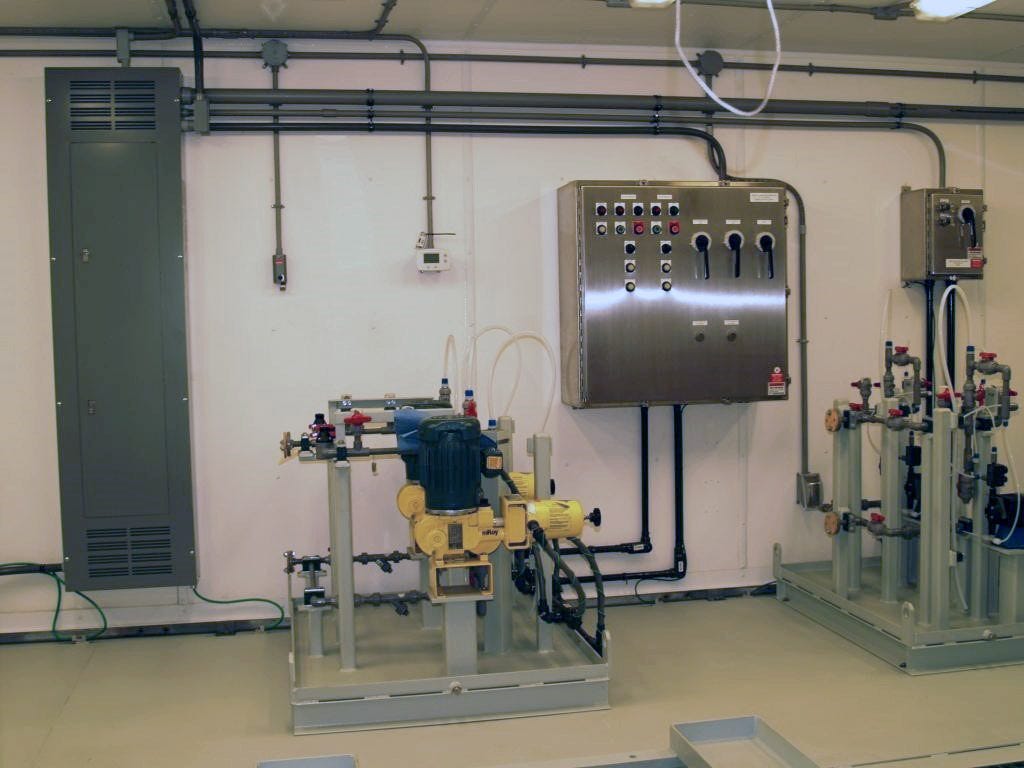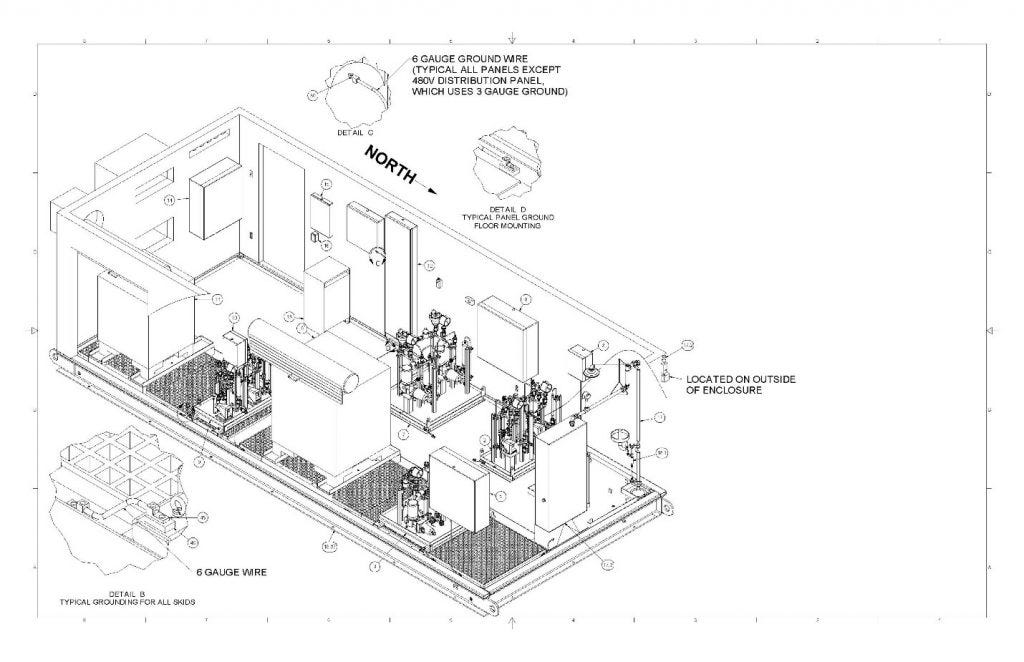 SCOPE
An EPC contractor building an air quality control system at an existing power plant approached OTC with a unique application. They required chemical feed systems for their process, but there wasn't room in the existing buildings at the plant. Due to the climate conditions, it would have been cost prohibitive to design the systems for outdoor use. The contractor approached OTC looking for skidded systems with enclosures that could be shipped completely assembled.
CHALLENGES
The enclosures would need to meet all local building codes for an inhabited building.
The chemical metering systems would require tote storage, containment for chemical spillage, a safety shower, and have all components and the enclosure interior resistant to chemical corrosion.
Maintaining access to all of the equipment and providing outside access for any heavy equipment.
Making the skid as modular as possible to minimize the on-site construction.
SOLUTION
OTC engineers collaborated with an enclosure manufacturer utilizing 3-D models to allow the skids and enclosures to be built simultaneously. The enclosure design was reviewed by local building officers and the unit was shipped with full approval to the building codes. To protect against extreme temperatures, the enclosure was outfitted with an HVAC unit. Additional enclosure features included overhead light, service doors, and roll up doors allowed full accessibility to the systems. To meet safety requirements within the enclosure, the chemical metering systems were provided with full containment, a safety shower with an instantaneous tepid water heater, slip resistant flooring, and NEMA 4X control panels and distribution panels. The modular enclosure system OTC designed allowed the contractor to reduce cost and installation time.



6 Advantages of Service and Repair for Pumps and Motors
By OTC Insights Team on February 2, 2023

How to Select a Pump for Food Processing
By OTC Insights Team on December 7, 2022
How to Plan for Temperature when Purchasing an Industrial Pump
By OTC Insights Team on October 26, 2022