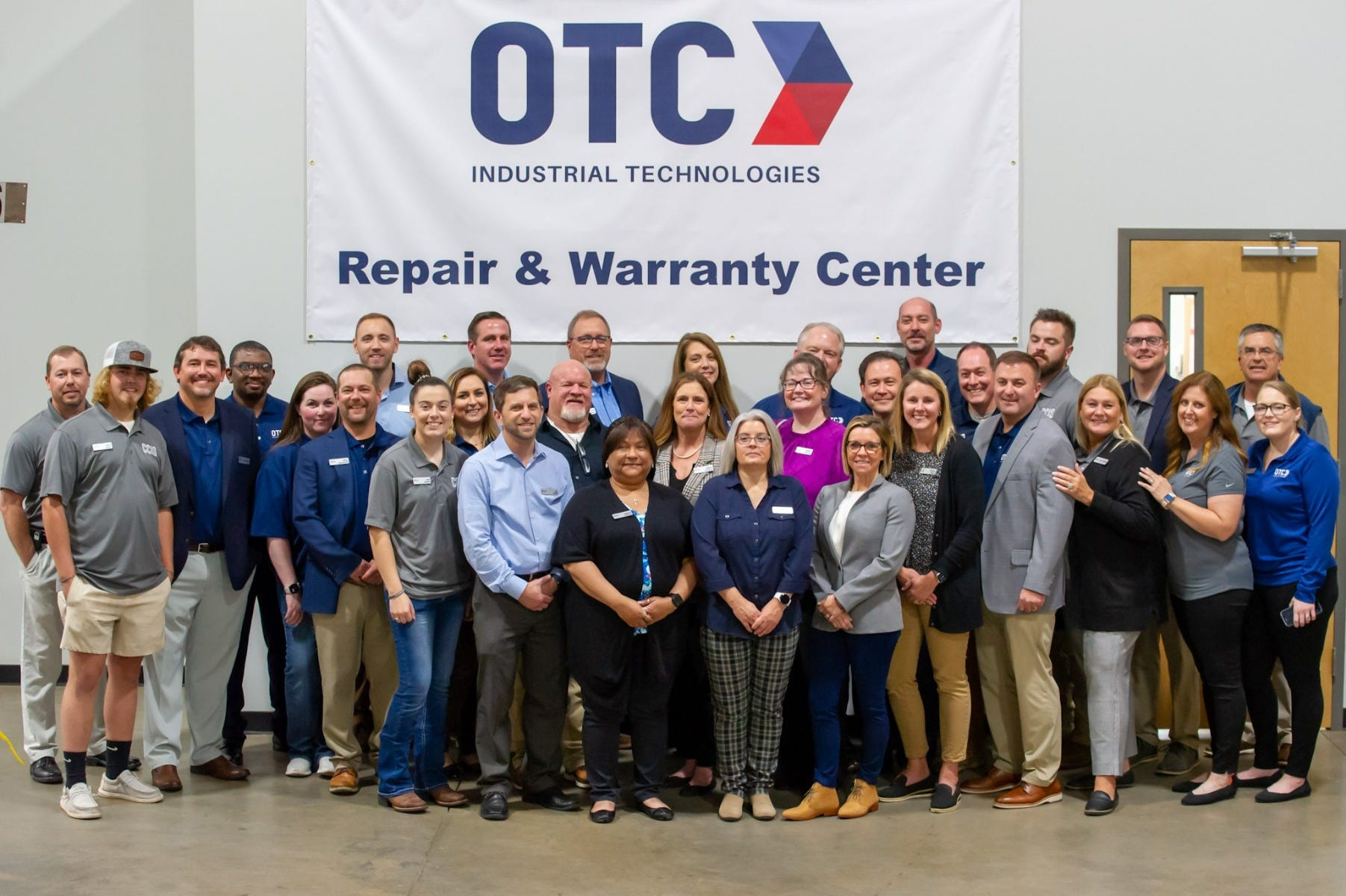 OTC Opens New CCIS Finishing, Dispensing, and Filtration Facility & Repair Center.
---
Piedmont, South Carolina — October 18, 2022— OTC Industrial Technologies, an industrial equipment service
provider and distributor headquartered in Columbus, Ohio, today announced the opening of a new Finishing,
Dispensing, and Filtration (FDF) stocking facility and repair center.

To support customer demand of finishing and dispensing equipment and filter products in the Carolinas, OTC is
proud to announce the expansion of subsidiary, CCIS, into Piedmont, South Carolina. This new site boasts over
12,000 sq. ft. of operating floor space. In addition to the larger facility, a newly built, state-of-the-art Certified
Repair & Warranty Service Center was added, staffed with full time expert finishing technicians.
Bob Wilson, FDF Group President, highlighted the market need saying "Customers in South Carolina have told
us that there was insufficient distributor support in the local market and requested us to expand." Bob continued,
"Investment is one of OTC's core values and we are excited to invest in brick and mortar and expand our expert
team in South Carolina to meet customers' needs."

Ken Taylor, CCIS Sales Manager, elaborates, "We will have the largest equipment, parts and filter inventory in
South Carolina, improving response time for our key customers. In addition to a rigorous internal onboarding
program, finishing technicians are trained by our manufacturers, enabling them to support customer needs. With
an expanded technical sales team, we are open for business in South Carolina!"

About C&C Industrial Sales (CCIS)
Since 1977, CCIS has been the most trusted resource for liquid and powder finishing and dispensing application equipment and service, and a leading supplier of materials used in customer applications such as filtration products in the southeastern United States. CCIS is part of OTC's Finishing, Dispensing, and Filtration (FDF) group. The capabilities of the FDF Group go well beyond just a supplier of product. Our seasoned team includes technical sales engineers, design and installation engineers, best in class service and repair technicians, inside sales and customers service representatives, product managers and fabrication experts such as machinists, electricians, and welders. The FDF Engineered Systems Group, a team of nearly 30, has unmatched industry expertise and has designed and installed custom finishing systems for some of the largest industrial manufacturers in the world.

About OTC Industrial Technologies
Established in 1963, OTC Industrial Technologies (OTC), https://otcindustrial.com, is one of the largest industrial distributors and service providers in the United States. OTC provides expert solutions for industrial motion control, factory automation, fluid power, pumping systems, spray finishing, power transmission, and compressed air systems. OTC operates a broad geographical footprint and delivers value to customers through its primary operating brands and divisions including OTP Industrial Solutions, AAP Automation, Air Technologies, Advanced Industrial Products, American Industrial Corporation, Buckeye Pumps, C&C Industrial Sales, Compressed Air Systems, Contrast Equipment, Crimson Electric, Critical Rental Solutions, Diversified Pump, Filter and Coating Technology, Furey Filter and Pump, IDG Compressor, Industrial Process Equipment Group, Keller Electrical, Laron, Midway Industrial Supply, Ohlheiser, PK Controls, Pumps, Parts & Service (PP&S), PumpTek, PSI Engineering, Tape Industrial Sales, TP Pump, and Tri-Power MPT.
---
---
---