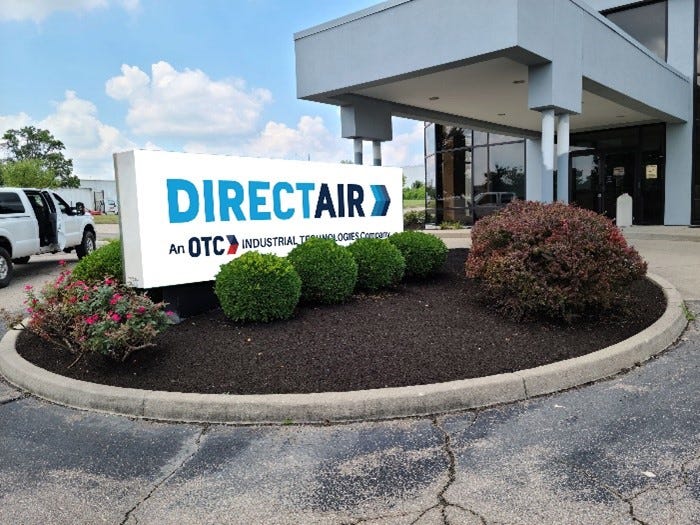 OTC Opens New DIRECTAIR® Manufacturing Facility & Rental Depot
---
MIDDLETOWN, Ohio —July 27, 2022—OTC Industrial Technologies, an industrial equipment service provider and distributor headquartered in Columbus, Ohio, today announced the opening of a new manufacturing facility to support customer demand for its DIRECTAIR product. This facility, located outside of Cincinnati, OH, will increase capacity by 200%. To support customer demand, this is the second expansion in the last year, following the Kingman, AZ facility. A third location is set to open in Houston, TX early 2023.

In addition, this new facility will serve as Critical Rental Solutions' (CRS) second hub, further expanding OTC's rental offerings into the Midwest.
"This new location will allow OTC to serve our customers with compressed air needs. Both DIRECTAIR and CRS product offerings are in high demand as they provide signficant value to our customers," said Adam Gibbs, President of Air Supply at OTC. "I am excited to open this new facility as it will allow us to further help our customers find success."
About DIRECTAIR
DIRECTAIR, https://aircompressors.com/utility-services/directair/, is a solution for compressed air as a utility service. Since 1995, DIRECTAIR has offered a best-in-class service and has been a solution to increase company profitability. To date, DIRECTAIR has provided more than 13 million man-hours of accumulated operation and has provided over $250 million in energy savings and carbon footprint. With vital utilities such as water, electricity, and natural gas, DIRECTAIR provides peace of mind to its end consumers by supplying compressed air as a fourth utility. Currently, DIRECTAIR services more than 200 sites across the United States and counting.
About Critical Rental Solutions
Originally founded in 1984 as Industrial Compressor Services (ICS), the Critical Rental Solutions team has been providing temporary oil free compressed air, services and expertise to the manufacturing and industrial markets throughout North America. Along the way they have acquired multiple companies with additional fleet and expertise. Most recently, they have expanded their rental equipment offerings with the acquisition of Surplus Group to provide best-in-class temperature control solutions.
About OTC Industrial Technologies
Established in 1963, OTC Industrial Technologies (OTC), https://otcindustrial.com, is one of the largest industrial distributors and service providers in the United States. OTC provides expert solutions for industrial motion control, factory automation, fluid power, pumping systems, spray finishing, power transmission, and compressed air systems. OTC operates a broad geographical footprint and delivers value to customers through its primary operating brands and divisions including OTP Industrial Solutions, AAP Automation, Air Technologies, Advanced Industrial Products, American Industrial Products, Buckeye Pumps, C&C Industrial Sales, Compressed Air Systems, Contrast Equipment, Crimson Electric, Critical Rental Solutions, Diversified Pump, Filter and Coating Technology, Furey Filter and Pump, IDG Compressor, Industrial Process Equipment Group, Keller Electrical, Laron, Midway Industrial Supply, Ohlheiser, PK Controls, Pumps, Parts & Service (PP&S), PumpTek, PSI Engineering, Tape Industrial Sales, TP Pump, and Tri-Power MPT.
---
---
---